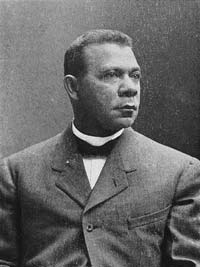 Born: April 5th, 1856 in Hale's Ford, Virginia
Died: November 14th, 1915 (at age 59) in Tuskegee, Alabama
Fields: Civil Rights Leader, Author, Educator
Famous For: Being an important leader in the black community
Booker Taliaferro Washington was born into slavery in 1856 on a small Virginia farm. Following emancipation, he and his family moved to West Virginia to work in the coal mines and the salt furnaces. Although his beginnings were very meager, he was able to attain a good education and, in fact, attended the Hampton Institute where he completed his secondary education.
School
Following his graduation from Hampton Institute, Washington tried his hand at teaching for a while; however, in 1881 he decided to found his own school. Thus was born the Tuskegee Normal & Industrial Institute. This school was created for black students in the area known as the "Black Belt" of Alabama. Tuskegee Institute was not especially innovative, but it was a good school and Washington promoted it vigorously and well. He strongly advocated the teaching methods used at Tuskegee.
Education at Tuskegee appealed to black people seeking a way out of poverty and into independence. Washington let them know that getting a solid industrial education would help them get out of dead end situations such as share-cropping and help them pay off debts and become truly free. He informed them that, with a good, solid education they could look forward to becoming small business owners, being self-employed and owning their own homes and land.
Philosophy
In 1895, Washington gave a talk at the Cotton States Exposition. This famous speech is known as the Atlanta Compromise Address. In it, he essentially made a poor deal for black people of the day by saying that social segregation and disenfranchisement of black people was acceptable if white leaders would support educational and economic opportunities for blacks. This address was met with approval by white business and society leaders. In 1900, Washington founded the National Negro Business League.
While promoting his institute, Washington continued to become better known for his political savvy. He let the all white employers and governors of the south know that an education at Tuskegee would produce black students who were ready to work at trades and on the farm. He appealed to wealthy people such as Carnegie and Rockefeller by promising that his school would instill students with a Protestant work ethic. Because of his appeals, he was able to secure impressive donations and a state appropriation. By the turn of the 20th Century, Tuskegee Institute was the top educational institution for black students in the USA.
Adviser
The publishing of Washington's autobiography, Up From Slavery, in 1901, practically made his name a household word. The book was very widely read, and may have gained Washington his invitation to dine at the White House with President Theodore Roosevelt. Following this event, Washington often consulted with Roosevelt and later with President William Howard Taft when they sought him out for advice regarding race relations and patronage politics.
More Than Accommodation
Washington's accommodationist philosophy was very popular with moderate and conservative white business people and politicians; however, as time passed, the black community and the liberal white community became disenchanted with this philosophy and with Washington. From 1905 to 1909 a movement known as the Niagara Movement strongly demanded civil rights. In 1909, the NAACP joined in this movement. Protests against segregation, disenfranchisement, lack of rights and egregious actions such as lynching were voluble.
Change
While Washington defended himself against his critics, he simultaneously used his own success to help the black populace strive toward advancement. He secretly sponsored civil rights suits and served on the boards of universities such as Howard and Fisk. He also provided a number of black colleges with generous donations.
When he went on speaking tours during this time, he spoke of equalizing opportunities for public education and working toward the reduction of race related violence. These topics were not as well met by white audiences as his previous topics had been. His accommodationist philosophy was simply not able to stretch enough to encompass the new needs of black America.
Last Days
In his short life, Washington had a major influence on race relations and was a celebrated and successful educator. He died in 1915 at the age of 59. Interestingly, this was also the year that is often called the "Great Migration." Black people moved in great numbers from the farms and small towns of the south into the cities of the north in search of new opportunities and equality.