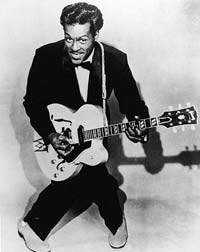 Born: October 18th, 1926 in St. Louis, Missouri
Fields: Songwriter, Musician
Famous For: Being one of the most influential musicians from the 50's through the 70's
Awards: Grammy Lifetime Achievement Award, star on Hollywood Walk of Fame, Jackie Coogan Award
Chuck Berry was born on October 18th, 1926 in St. Louis. Music was something he took a liking to very early on. He did not come from a poor upbringing and his education included music. Music, however, did not keep him out of trouble as he was convicted of armed robbery in 1944 and spent three years in prison. Upon his release, he got married and took a job in an automobile plant.
In the 1950's, Berry would start to invest more and more time with his music. He would hone skills at singing and guitar playing. While performing was not something he did to a great degree when younger, he was putting more time in doing so as he reached his 30's. His work at clubs and with local bands in the 1950's seemed to have been born from trying to make a little extra income to support his family.
This would actually contribute to him becoming one of the most famous rock and roll legends in history.
Music Career
Berry was not a run of the mill entertainer. He had his own brilliant unique style and was drawing crowds. He started pursuing music full-time and traveled to Chicago to meet with Muddy Waters to help him with his career. Waters would guide Berry to Chess Records which would prove to be a huge boom to Berry's career. At Chess, Berry would record the number one billboard hit "Maybellene." The song made Berry a star.
Now, it was not uncommon for new singers to only be one hit wonders. This was not the case with Berry as he would go on to record and release several new classic hits including "Johnny B. Goode," "Sweet Little Sixteen" and more. He had sold millions upon millions of records in the 1950's establishing him as a huge star. He also had an amazing stage presence making his concerts very memorable and popular. His appearances on television and radio further contributed to his stardom.
Arrest and Scandal
Chuck Berry was arrested in 1959 over allegations he had sex with a minor. He was found guilty and sentenced to prison. Appeals followed and he continued to tour. Eventually, he did go to prison where he remained until October 1963.
This scandal had a very negative effect on his popularity and his recording career slowed considerably.
Comeback
When the British Invasion occurred, American rock bands had to take a backseat. The two top acts, The Beatles and The Rolling Stones, were publicly saying Berry was an influence on them. They even covered several of his songs. This opened doors for Berry who recorded a successful new song, "Nadine" which hit number 20 on the Billboard charts.
New hit singles were not in the cards for Berry and musical tastes were changing. However, he was still a major hit on the concert circuit. In the 1970's, with the release of "American Graffiti," more interest was being paid to musicians of the 1970's. This certainly helped Berry gain more and more concert bookings.
In 1972, he did top the charts once again with the awful novelty song "My Ding-a-Ling." As bad as it was, it hit number one and boosted Berry's career.
Financial Woes
Berry would suffer major financial woes in the 1970's and was accused by the government of tax evasion. He continued to tour, but in the most obtuse way. He would book himself in small clubs by himself and work with whatever band the venue offered. These concerts were routinely considered awful. Berry did need the money and could always rely on someone booking him. In the 1980's, he was doing about 100 shows per year in this manner.
He still performs to this day at the age of 86.