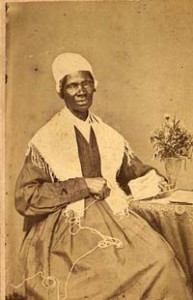 Born: 1797 in Swartekill, New York
Died: November 26th, 1883 (at age 86) in Battle Creek, Michigan
Fields: politics, human rights, author
Famous For: Being an abolitionist and women's rights activist
Sojourner Truth was an African American women's rights activist and abolitionist. She gave herself this name, having been born into slavery under the name of Isabella Baumfree. When she won a judgment for the return of her infant son, she became the first black woman to be successful in a court action against a white man. She is perhaps best known for her "Ain't I a Woman" speech of 1851.
Early life
As a slave, Truth's given name at birth came from the Mr. Baumfree who owned her father. She was born in Swartekill in New York's Ulster County, and was sold several times to new owners. While she was the property of the Dumont family, she was permitted to marry a fellow slave, Thomas, and the couple had five children. New York passed a law emancipating its slave population in 1827, but by this time Truth had run away, taking her youngest child with her. She found work with the Van Wagenen family, and briefly adopted their name as her own.
Legal victories
While she was employed by the family, Truth found out that another member of the Dumont family had taken one of her children and sold it as a slave in Alabama. Protesting that this was unlawful under New York's emancipation legislation, she filed a suit in court, and won a judgment ordering her son's return. A little later, she converted to a form of Methodism and moved to a Methodist commune in New York City. Here, she was strongly influenced by an odd man named Mathias, who claimed to be a prophet.
The commune was dissolved shortly afterward, it being alleged that sexual crimes and murder had taken place. Truth was accused of poisoning someone, and won a libel case against her accuser. She maintained herself by working as a servant. In 1843, she alleged that the Holy Spirit had contacted her and told her to change her name to Sojourner Truth, which she did. She went out on the road as an traveling preacher, and near the end of the 1840's became active in the abolitionist movement. By the 1850's she was also an advocate for female suffrage, and in 1851 she gave a powerful extemporaneous speech in Ohio, later dubbed the "Ain't I a Woman?" speech.
Later life
Before long, Truth met Harriet Beecher Stowe, who agreed to write an introduction to Truth's autobiography, or "Narrative" as she called it. Truth then went to join another religious commune in Michigan, this one of a Quaker nature. She was also briefly sympathetic to Millerism, an offshoot of Methodism that eventually transformed into the Seventh Day Adventist Church. When the U.S. Civil War broke out, Truth encouraged donations of clothing and food for black soldiers, and in 1864 Abraham Lincoln invited her to a meeting at the White House, where she complained about racial segregation on streetcars.
After the war was over, Truth returned to public speaking – usually to white audiences – and for a while was a supporter of a separatist "Negro State" somewhere in the western states. Her speeches usually concentrated on the rights of blacks and women, but she also supported the temperance movement. Her attempts to help provide employment for returning black soldiers were largely unsuccessful, however. In 1875, her grandson died, and Truth retired to Michigan. After several years of failing health, she died in 1883.