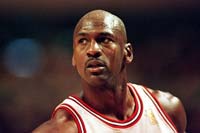 Born: February 17th, 1963 in Brooklyn, New York
Fields: Basketball, Baseball
Famous For: Winning 6 national championships
Awards: NBA Most Valuable player (5 times), NBA Finals MVP (6 times), 14 time NBA All-Star, Rookie of the Year, Defensive Player of the Year
Some say he could fly, or perhaps it was the shoes as Spike Lee once famously proclaimed. Whatever the reason for his success, Michael Jordan will go down in National Basketball Association (NBA) history as one of the best players ever.
Besides his physical abilities, he was also a player whose marketing was unsurpassed during the 1980's and 1990's. His association with the Nike brand is almost legendary in its scope.
He has become known as simply "MJ," or during his playing days "number 23," which he wore through most of his career with the Chicago Bulls. At one point he left the game of hoops to pursue a career in professional baseball, but the endeavor was short lived. He would return to the game he excelled in with a press release that read simply "I'm back!" Jordan is currently the majority owner of the NBA Charlotte Bobcats.
Early Years and College
Michael Jordan was born on February 17th, 1963 in Brooklyn, New York. His family relocated to Wilmington, NC while he was still in diapers. He would begin playing basketball at Laney High Scholl where he was infamously denied from playing on the team's varsity squad as a sophomore because it was decided he was too short.
Michael would make the varsity the following year where he drew much attention from colleges all over the U.S. He would receive scholarship offers from the likes of Virginia, Syracuse, South Carolina and Duke. He decided to stay close to home and attend the University of North Carolina. The decision was not only based on geography, but also due to its head coach being Dean Smith. After a highly successful stint at Chapel Hill, which included the game winning shot in the 1982 NCAA Championship game, he would depart college following his junior year to enter the NBA Draft.
Professional Career
Michael Jordan was chosen with the third selection in the 1984 draft by the Chicago Michael Jordan was chosen with the third selection in the 1984 draft by the ChicagoBulls. The Houston Rockets had the first pick and chose Hakeem Alajuwon. In what is now considered the worst choice ever in the NBA selection process, the Portland Trail Blazers opted for Sam Bowie over Jordan.
In his first year for Chicago, Jordan would be an All-Star which led to his animosity towards Isiah Thomas throughout his career. It was believed that Thomas orchestrated a "freeze out" of Jordan handling the ball in the event as a sort of rookie hazing. However, with his unrelenting competitiveness it most likely just motivated him that much more to dominate the game, which he did throughout his 15 year career. He played for Chicago for 13 seasons taking the aforementioned baseball break. That sabbatical was after a "three peat" of NBA Championships and another one followed his return to the game in 1995 through 1997. He briefly played for the Washington Wizards at the end of his career.
Personal Life
Mr. Jordan's life has not been without some difficulties and tragedy. He was implicated in a gambling scandal around the same time his father was murdered in 1993. He and his wife Juanita were divorced in 2006 amidst rumors of his womanizing. The couple had 2 sons and a daughter.
Accomplishments
NBA Rookie of the Year 1984-85
14 time NBA All Star
10 time NBA scoring leader
6 NBA Team Championships and 2 Olympic Gold Medals (1984, 1992)
Inducted into the Professional Basketball Hall of Fame in 2009