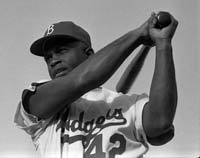 Born: January 31st, 1919 in Cairo, Georgia
Died: October 24th, 1972 (at age 53) in Stanford, Connecticut
Fields: Baseball
Famous For: Being the first African-American to play Major League Baseball
Awards: Rookie of the Year, Most Valuable Player (1949), National Baseball Hall of Fame, Canadian Baseball Hall of Fame
Jackie Robinson will forever go done in history as one of the greatest Hall of Fame players in baseball. As most already know, Robinson broke the color barrier in Major League Baseball and became the first African-American player in the game on a professional level.
Before Baseball
Robinson was the son of sharecroppers. He would move with his family to Pasadena, California where Robinson became involved with gangs. He was convinced to leave gang life behind and this set him down a more positive path in life.
He would go on to attend John Muir High School where he was heavily involved in sports. Four of the sports he played were baseball, football, track, and basketball. Robinson extended his sportive endeavors to tennis and won a local Pacific Coast tournament.
Robinson ventured to UCLA where he became the very first student to letter in the same four sports he excelled in during High School: baseball, football, track, and basketball. Robinson clearly was someone will incredible special talents for sports and his achievements were far beyond what others were attaining.
A Football Career
Not many people know this, but Robinson pursued a pro football career playing in smaller leagues in Hawaii and in Los Angeles. This career would go on hiatus when he entered into the army after the Pearl Harbor attack. Upon leaving military service, he returned to the Los Angeles Bulldogs, the football team he would play for.
Venturing into Baseball
Robinson would try his skills out in baseball in the Negro Leagues. The Kansas City Monarchs offered him $400 a month to play and he took the offer. He was not fond of his experiences due to the corruption he saw in the management of the league. He did well as a player and opted to try out for MLB teams including the Boston Red Sox. Actually, the tryout for the Red Sox was a horrible situation where black ballplayers were invited to try out only to be racially humiliated. The incident did not leave Robinson completely dispirited as he looked to make it on another MLB team.
The Brooklyn Dodgers were the team that would eventually offer Robinson a chance. The team was seriously scouting the Negro League for major talent to add to their roster. Jackie Robinson would be the person they went with. He had to start with the minor league team associated with the Dodgers first and he did well. This led to him moving up to the majors in 1947 forever breaking the color barrier.
Sadly, Robinson had to suffer from a great deal of racial animosity among peers and fans. Robinson did not let this get to him and went on to immense success as a baseball player.
With a lifetime batting average of .311 and over 1,500 hits along with 197 stolen bases, Jackie Robinson was clearly a Hall of Fame caliber player. He was inducted in the Hall of Fame in 1962, 6 years after his retirement.