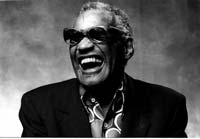 Born: September 23rd, 1930 in Albany, Georgia
Died: June 10th, 2004 (at age 73) in Beverly Hills, California
Fields: Singer, Songwriter, Musician, Composer
Famous For: Being one of the best artists of all time
Awards: Several Grammy Awards, National Medal of Arts, Polar Music Prize, George and Ira Gershwin Award
Ray Charles Robinson was an American singer, composer and songwriter. He was a pioneer in the genre of soul music during the 1950's by fusing gospel, rhythm and blues into his recordings with Atlantic Recordings. Ray Charles also helped racially integrate pop music and country music during the 1960's with his crossover success on ABC Records. While with the ABC , he became one of the first African-American musicians to be given artistic control by a mainstream record company.
Early Life
Ray was born on September 24th, 1930 in Albany, Georgia. His family moved to Gainesville, Florida when Ray was an infant. In his youth, he endured many challenges like depression and poverty. His younger brother drowned when Ray was only 5 and by the time he was 7, he had lost his sight. The loss of his sight could have been caused by Glaucoma which by then did not have any specific diagnosis.
Ray was sent to St. Augustine School for the Deaf and Blind. Here, he learned how to read and write music in Braille. He would read 3 or 4 bars of music with his fingers and then play it. Ray was not lucky enough to get a place in the music class since it was full. After awhile, he managed to join the music class where he learned to play alto sax, organ and trumpet.
At the age of 15, he lost his mother. He left St. Augustine to pursue his musical dreams. He played at black dance halls all around Florida. In 1948, he left Florida and ended up in Seattle where he met Quincy Jones.
Charles always played for other people and he finally wanted his own band. He started recording for Down Beat label and he achieved his first hit in 1949 with "Confession Blues." This song soared number 2 on the R&B charts. He later joined Swing Time Records where he recorded 2 more R&B hits in 1951 and 1952. In 1953, he was signed to Atlantic Records.
Musical Career
Ray Charles first recording session with Atlantic was in 1952. He began recording boogie-woogie and jump blues style recordings as well as slower ballads. He continued to show the vocal influences of Charles Brown and Nat King Cole. His first hit "Mess Around" came in 1953; it was later followed by "It Should Have Been Me" and later "Don't You Know." He later recorded "Sinners Prayers" and "Midnight Hour." He recorded his own composition "I Got a Woman" in 1954. This song was a great success and it even became the number 1 R&B hit in 1955.
Over the years Ray developed his own unique sound, a blend of R&B, blues and gospel. He started appearing in films and recorded some soundtracks. Charles won 12 Grammy Awards.
Personal Life
On November 14th, 1961, he was arrested on a narcotics charge. He was then 31 years old and he stated that he has been a drug addict since he was 16. The case was later dismissed but he was arrested again in 1964 for possession of heroin and marijuana. He received 5 years probation. Charles was married twice and has 12 children with 9 different women.
Death
Ray died on June 10th, 2004 due to liver failure. He died at his home in Beverly Hills, California at the age of 73.