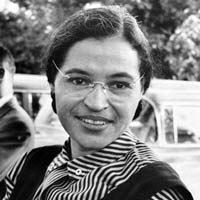 Born: February 4th, 1913 in Tuskegee, Alabama
Died: October 24th, 2005 (at age 92) in Detroit, Michigan
Fields: Civil Rights Activist
Famous For: Civil disobedience
Awards: NAACP Spingarn Medal, Martin Luther King Jr. Award, Michigan Women's Hall of Fame, Peace Abbey Courage of Conscience Award, Presidential Medal of Freedom, Congressional Gold Medal
Rosa Parks remains an iconic figure in the history of the Civil Rights Movement. Her act of defiance of refusing to give up her bus seat to a white person became a symbol for the movement and helped galvanize it.
The State of Alabama had rules in place regarding segregation on buses. On December 1st, 1955, when the white section of a bus she was riding on was filled, the bus driver instructor her to give up her seat. She refused and her action led to an arrest for civil disobedience. This would set in motion legal challenges that would address the constitutionality of busing segregation in the south.
Early Life
Rosa Parks was born Rosa McCauley on February 4th, 1913 in Tuskegee, AL. She eventually moved to Montgomery, AL where she would continue schooling and vocational studies. She had planned to enter into secondary education courses, but had to drop out and care for her mother and grandmother when they became ill.
During her life, the south was infamous for its Jim Crow laws that supported racial segregation and disenfranchised blacks from voting. In 1932, she married Raymond Parks, a man active in civil rights activities, who encouraged Rosa to get her High School diploma. She completed her secondary education and would go on to register to vote which was not easy for a black woman in Alabama. In fact, she was turned down on her first two attempts.
Civil Rights Activism
In the early 1940's, Rosa Parks would become actively involved with the Civil Rights movement. She joined her local chapter of the NAACP and went on to become affiliated with the Voters' League. She would also go onto become the Secretary of the Montgomery, Alabama Chapter of the NAACP. During her tenure there, she took part in the investigation of the horrible gang rape of Recy Taylor by six white men in 1944 and also the murder of a young black man named Emmett Till in 1955.
Montgomery Bus System
The city codes in Montgomery put in place racial segregation on the bus system. Blacks had to give up the front seat for whites. If more whites required seats, blacks had to give theirs up and stand. Problems with the busing system persisted for many years and eventually led to the Montgomery Bus Boycott by African-Americans who comprised 75% of the bus riders.
The famous day when Rosa Parks refused to give up her bus seat would further contribute to reversing the discriminatory laws that were in place.
Unfortunately, she would suffer major economic hardships as a result of her fame. Namely, she was fired from her place of employment and could not find a new job. In 1965, she would move to Detroit and find work in the office of U.S. Representative John Conyers.
In her later years, Parks suffered from very poor health and this led to financial troubles. She was nearly evicted from her apartment when she was a 91 year old widow. Mercifully, this did not occur although the remainder of her life was one spent suffering from age related health problems.