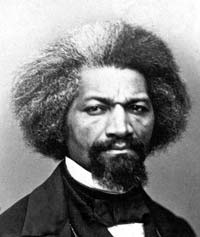 Born: February, 1818 in Talbot County, Maryland
Died: February 20th, 1895 (at age 77) in Washington D.C.
Fields: Politics, Civil Rights
Famous For: Being a human rights campaigner and famous abolitionist
Frederick Douglass is an honored voice in African American history. He is well-remembered for his eloquent speeches and his beliefs in self determination. He spoke of making the most of every opportunity presented and making good use of the power of language, both written and spoken, to create change in society and in oneself.
Born into Slavery
Douglass was born in February of 1818. His birthplace was a slave cabin located on Maryland's Eastern Shore in the town of Easton. He was taken from his mother when he was just a few weeks of age and given to his grandparents to take care of. When he was six years old, his grandmother took him to the master's plantation and unexpectedly left him there. This abandonment caused Douglass to suffer from fear of betrayal and abandonment throughout his life.
Learning to Read
When Douglass was eight years old, he was sent to Baltimore to work as a houseboy for his master's relatives, Hugh and Sophia Auld. In Baltimore, Mrs. Auld taught Douglass the alphabet; however, Mr. Auld put a stop to the lessons since teaching slaves how to read was against the law.
Without a teacher, Douglass decided to learn to read on his own. He made deals with boys in the neighborhood to trade food for lessons. He soon learned to read and write, and when he was twelve years old, he bought himself a schoolbook called The Columbian Orator. By studying on his own, he learned how powerful words can be, both when written and spoken. He knew that he could use words effectively to bring about positive changes in society.
Slavery
At the age of fifteen, Douglass was sent back to the plantation to work as a field hand. It was then that he realized how horrible conditions were for slaves. He realized that these conditions had been the status quo for black people in slavery for almost 300 years. Douglass could not accept these conditions and fought with a well-known slave trader named Edward Covey. The outcome of the fight was a tie; however, Douglass felt empowered by the fact that he had not lost the fight.
Escape
At the age of eighteen, Douglass attempted to escape the plantation but failed. He was then returned to the Aulds in Baltimore. When he was twenty years old, in the fall of 1838, he escaped from the Aulds and made his getaway by disguising himself as a sailor. He traveled to New Bedford, Massachusetts and met and married a woman named Anna Murray. The two bought a house and began raising a family.
Abolitionist
Douglass remained interested in the plight of the negro slave and made it a point to attend abolitionist meetings as often as possible. By the fall of 1841, he was well-known at these meetings. Following an abolitionist convention that took place on Nantucket Island, he was asked to become a lecturer for a group known as the Massachusetts Anti-Slavery Society.
This was his springboard into public life. He soon became well-respected for his speaking engagements as well as his writing. He wrote speeches, articles and three autobiographies. He founded a newspaper known as The North Star. The paper became very active in the suffragette movement and took part in the very first convention for women's rights which took place in Seneca Falls in 1848.
Growing Fame
Frederick Douglass' zeal for human rights and the power of his speeches and writings earned him international recognition. He fought hard for the rights of all people and for justice for all. He was a staunch supporter of women's rights.
Because of Douglass' great intellect and drive, Abraham Lincoln turned to him for advice often. Additionally, Douglass held a number of respected positions including Minister General to the Republic of Haiti, Recorder of Deeds in Washington D.C. and U.S. Marshall in the District of Columbia.
Frederick Douglass lived a full and fruitful life and accomplished a great deal for the cause of human rights. On February 20th, 1895, he died peacefully of apparently natural causes at the age of 77 in his home located at Anacostia, Washington D.C.