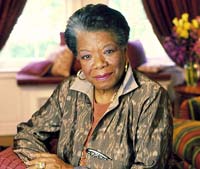 Born: April 4th, 1928 in St. Louis, Missouri
Fields: Author, Poet, Dancer, Civil Rights Activist, Actress
Famous For: Authoring "I Know Why the Caged Bird Sings"
Awards: Coretta Scott King Honor, Langston Hughes Medal, St. Louis Walk of Fame, Grammy, Mother Theresa Award, Presidential Medal of Freedom, Black Cultural Society Award
Born on April 4th, 1928 in St. Louis, Missouri, Maya Angelou is a famous and influential author, playwright, essayist, poet, educator, dancer, civil rights activist, film and television producer, film director, actress and a highly-respected spokesperson. Dubbed as a global Renaissance woman, Maya Angelou is one of the most renowned African-American women writers of the 20th century and one of the most inspiring voices of contemporary literature. She is known worldwide for her autobiographical novels.
The main themes of her works include racial, sexual and economic oppression, women's rights, family, social and cultural identity, travel, literacy and child development. Maya Angelou is Reynolds Professor of American Studies at Wake Forest University in North Carolina and she has received more than thirty honorary doctoral degrees, three Grammys, the Presidential Medal of Arts in 2000 and the Presidential Medal of Freedom in 2011 – presented by President Barack Obama.
Early Life
Born Marguerite Ann Johnson to Bailey Johnson, a navy dietician and doorman, and Vivian Johnson, a card dealer and nurse, Angelou spent her childhood in St. Louis and Stamps, Arkansas. She and her older brother Bailey Jr. Lived with Anne Henderson, their grandmother, who managed to thrive financially during the Great Depression.
While in Stamps, she experienced the atrocity of racial discrimination, but she was also exposed to the traditional values of African-American culture and community. When she was eight years old, while living with her mother back in St. Louis, she was sexually abused by Mr. Freeman, her mother's partner. Although found guilty, he was released after only one day in prison and four days later, he was murdered. Believing that her voice ( she confessed the rape to her brother) had actually killed him, she became mute for a period of five years, during which she discovered her love for art and literature. When she was a teenager, she was granted a scholarship to study drama and dance at Labor School in San Francisco. She dropped out at the age of 14 in order to become the first African-American female streetcar conductor. After graduating from high-school, at the age of 17, she gave birth to her son, Guy Johnson, whom she supported by working as a cook and waitress. In 1951, she married Tosh Angelos, a Greek electrician and aspiring musician, but their marriage ended in 1954. She earned a living by singing and dancing calypso music in San Francisco nightclubs. In 1957, she recorded her first album, "Miss Calypso." In 1961, Maya Angelou moved to Ghana, where she met Malcolm X and in 1964, she returned to the US to help him put together his Organization of African-American Unity.
Publications and Success
The famous African-American author has published seven autobiographical novels, including "I Know Why the Caged Bird Sings," a critically acclaimed and commercially successful buildungroman about her early life, depicting how her determination, strength and beauty of character, literacy and love of prose and poetry helped her overcome racism and sexual assault. " The symbol of the "caged bird" is used extensively throughout all her literary works. The character Maya has been described as a symbolic character for every black girl raised in America, transforming her from a victim of racism that has an inferiority complex to a self-aware young adult who is not afraid to respond to the cruel reality with dignity, grace and a strong sense of her own identity.
The list of her published works includes more than thirty internationally best-selling titles. She read her famous poem, "On the Pulse of Morning," at president Bill Clinton's inauguration in 1993, becoming the first female and the first black poet in history to recite a poem at a presidential inauguration. Dr. Maya Angelou's reading of her poem was broadcast live all over the world. She is also a pioneer in film and television; her screenplay written for the 1972 film "Georgia, Georgia" was the first written by an African-American woman ever to be filmed and it was nominated for a Pulitzer Prize.