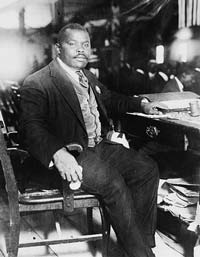 Born: August 17th, 1887 in St. Ann's Bay, Jamaica
Died: June 10th, 1940 (at age 52) in London, England
Fields: Civil Rights, Journalism, Publishing
Famous For: Being an advocate of Pan-Africanism and Black Nationalism
M. Marcus Garvey was the son of a mason, Marcus Mosiah Garvey, and a domestic worker, Sarah Jane Richards. Out of his eleven siblings, only he and his sister named Indiana survived until a mature age. Given the economic circumstances during his time, his family remained financially stable. They even had a large library at home where he did most of his reading. This was influenced by his father. Garvey was a well known Jamaican publisher, journalist and political leader. He was an orator who influenced the Pan-Africanism movements and Black Nationalism.
Political Career
Garvey is highly regarded in his role for fighting for the unity of African Americans. He was a great political leader who was responsible for creating the group known as the Universal Negro Improvement Association. He himself gathered the supporters to fight for this cause. He achieved many things with this group, touching issues on economy, independence and education. He believed that communism would limit the power and success of African Americans in rising together and would be more beneficial for the whites.
Garvyism
Garvey used cultural symbols which embodied his concept of nationalistic philosophy. Although he is more known for his Back-to-Africa concept, this was never really a central part of any of his programs. This was something that the media was more interested in. Garvey knew how to manipulate the media because of years in journalism. He understood how to communicate to his audience. He preached the need to know and understand his ancestry.
Later Years
Later in his life Garvey traveled to Geneva. This was where he presented the Petition of the Negro Race. He outlined here the worldwide abuse of Africans which was part of his speech for the League of Nations. A year later, he founded Jamaica's first modern political party, known as the People's Political Party (PPP). This focused on the rights of workers, education and giving financial aid to the poor.
In 1931, Garvey opened the Edelweiss Amusement Company which would help artists earn a living through their craft. Several Jamaican artists found their fame after receiving help from this organization. Ernest Cupidon, Kidd Harold and Ranny Williams are a few examples. A couple of years later, Garvey left Jamaica and traveled to London where he remained until his death.
Death and Legacy
Garvey died in London in the year 1940 after suffering from two strokes. This was coincidentally after he read a mistaken obituary about himself which stated that he passed away unpopular, broke and alone. Rastafarians consider Garvey as a religious prophet. They sometimes refer to him as the reincarnation of St. John the Baptist.
Garvey was considered a major influence in Jamaica, more specifically in the country's movement toward freedom. There are a number of tributes and memorials which have been erected to honor him. His face is used on Jamaican coins, namely the 50 cent note, 20 dollar coin and 25 cent coin.