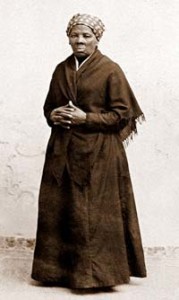 Born: 1820 in Dorchester County, Maryland
Died: March 10th, 1913 (at age 93) in Auburn, New York
Fields: Civil Rights Activist
Famous For: Freeing over 300 slaves via the Underground Railroad
Harriet Tubman was one of the most legendary of the abolitionists of the 19th century. Through utilizing the Underground Railroad, she helped many slaves find their way to freedom in the North and in Canada.
Life in Slavery
Harriet Tubman was born as Araminta "Minty" Ross, a slave on a plantation in Madison, MD. Her exact date of birth is unknown; although, it is believed she was born in 1822. Her maternal grandmother was born in Africa and Harriet was one of nine children born of parents named Rit and Ben. When Rit's son Moses was to be sold to a trader, Rit threatened to split open the head of the trader and her master so they backed down. This may have been a major impacting incident in Harriet's as it gave her a lesson in standing up to corruption.
Tubman was treated brutally as a slave – being viciously whipped even when she was only six years old. In an incident at a grocery store where she refused to intervene and help an overseer restrain a runaway slave, she suffered a major brain injury. The overseer threw an object at the slave, but hit Harriet. She may have suffered from narcolepsy through the rest of her life as a result.
Freedom from Slavery
In late 1849, Tubman made two attempts to escape to freedom. The first was unsuccessful, but the second led her out of bondage. She made use of the Underground Railroad system that helped guide escapees to a free state.
She ended up in Philadelphia where she would begin to greatly miss her family. Of course, she could not willfully return home to see them because she would once again be enslaved. During her time here, she would become involved with the abolitionist movement. In particular, she would form a friendship with Thomas Garrett, an abolitionist who lived in Delaware.
Helping Others
In December 1850, Tubman returned to Maryland in secret. She had heard her siblings were being separated and sold to new owners. She helped orchestrate their escape and brought them to Philadelphia were they gained their freedom.
Tubman would then make the decision to help others outside of her family achieve freedom. She would become an active participant in the Underground Railroad. She had clearly shown her ability to help people escape and this made her a valuable asset to the abolitionist movement.
Through her life, Tubman made 19 trips back into slave states to help 300 slaves escape to freedom. These trips were extremely dangerous. Often, she risked detection and was nearly recognized on two occasions. In both instances, she was able to avoid being identified.
During the Civil War, Tubman would act as a Union spy realizing a Union victory would mean the end of slavery. In her later years, she worked with the women's suffrage movement.
Harriet Tubman would pass away in 1913 in a senior citizen's home she helped to found.