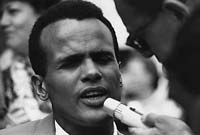 Born: March 1st, 1927 in Harlem, New York
Fields: Actor, Songwriter, Singer, Activist
Famous For: "The Banana Boat Song"
Awards: Tony Award, Grammy Awards, Grammy Lifetime Achievement Award, National Medal of Arts, Chief Justice Earl Warren Civil Liberties Award, BET Humanitarian Award, Domestic Human Rights Award, Spingarn Medal
Born on March 1st, 1927 in Harlem, New York, Harry Belafonte is a famous African-American singer-songwriter, actor, film director, social and political activist and humanitarian. Universally known for "the Banana Boat Song," featuring its signature "Day-O" lyric which earned him the honorary title "King of Calypso," he made Caribbean music extremely popular in the 1950's. He received two Grammy Awards, in 1960 for the album "Swing Dat Hammer" and in 1965 for "An Evening With Belafonte/Makeba." He won a Grammy Lifetime Achievement Award in 2000. In the 1960's, he became the first African-American television producer and he was also the first African-American to win an Emmy Award for his first solo TV program "Tonight With Belafonte." He performed his last concert in 2003. Harry Belafonte is a UNICEF Goodwill Ambassador and in 2006 he received the BET Humanitarian Award. Belafonte vehemently critiqued the George W. Bush administration. He has has four children – Adrianne, Shari, David and Gina.
Early Years
Belefonte was eldest son of Harold George Bellanfanti, a chef and Melvine Bellanfanti, a housekeeper. He lived in Harlem until 1932, when his parents divorced, then he left to live with his mother in Jamaica until 1940. Upon his return to New York, he attended George Washington High School and in 1944 he joined the U.S. Navy. In the late 1940's, he studied drama with the renowned German director Erwin Piscator at the New School's Dramatic Workshop in New York. He started his musical career in 1949 working as a pop singer in various nightclubs in order to pay his acting classes. In 1950, he became interested in folk music, part of his Caribbean heritage and he learned various songs by studying the American folk song archives at the Library of Congress. Harry Belafonte debuted as a folk singer at the iconic jazz club "The Village Vanguard" and in 1952 he signed with RCA Victor, for which he continued to record until the 1970's. He was one of the confidants of Martin Luther King Jr. and in the 1950's he supported the Civil Rights Movement.
Contributions to Music
His first globally-released single, "Matilda," recorded in 1953 remained his signature song and it was often performed in live concerts. His groundbreaking album entitled "Calypso" was released in 1956 and it was the first LP in the United States to sell over one million copies within one year and the first million-selling LP ever in the UK. The majority of the compositions on this album, such as "Jamaica Farewell" and "The Banana Boat Song," which was based on Jamaican folk singer Louis Bennett's version from 1954. Harry Belafonte's second most popular song was the humorous show tune "Mama Look at Bubu." He recorded two live albums at Carnegie Hall, in 1959 and 1960, which were both critically acclaimed and commercially successful.
The song "Hava Navila," taken from the 1959 album, became an instant smash hit. In 1961, he was recruited by Frank Sinatra to perform at President John F. Kennedy's inaugural gala. His second calypso music album, "Jump Up Calypso," included the popular song "Jump in the Line" (Shake, Senora), which featured in the 1988 film "Beetlejuice" and in 2008 animated film "The Little Mermaid." His 1962 album "Midnight Special" featured, for the first time, the famous Bob Dylan. His last studio album was the 1988 "Paradise in Gazankulu."After playing the leading role in the hit musical "Carmen Jones" in 1954, Harry Belafonte starred in the 1957 film "Island in the Sun." He also had leading parts in films such as "Uptown Saturday Night," "White Man's Burden" and "Kansas City."