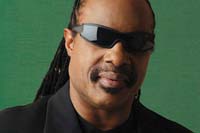 Born: May 13th, 1950 in Saginaw, Michigan
Fields: Musician, Songwriter, Singer
Famous For: Being one of the most innovational musicians of the late twentieth century
Awards: Best R&B Song, Best R&B Vocal Performance, Album of the Year, Producer of the Year, Songwriters Hall of Fame, Academy Award for Best Song, Rock and Roll Hall of Fame
Stevie Wonder is not just a singer, composer or songwriter; he is a humanitarian and one of the best instrumentalists of all time. From a childhood Motown star with his first signing at the age of eleven, Wonder's career as a hugely influential musician is still going strong well over half a century later.
Early life
Stevie Wonder was born two months premature in 1950, a lack of oxygen scarred his retinas for life. Wonder was left blind with a condition called Retinopathy of prematurity, but this has never once stopped him from excelling in all that he has achieved. Wonder's mother moved with her children to Detroit, leaving Stevie's father and adopting the family name Morris, the legal surname that Wonder would keep. Wonder had his first number one hit at just thirteen years of age in 1963, and to date he still holds the record for the youngest solo artist to hit the top of the charts.
From Child Singer to Superstar
After being signed as a just a child by Motown, Wonder increasingly popular during the 1960's. As Wonder grew both in age and confidence, his hits contained more of his own musicianship and song writing skills, and by the 1970's he had already become a confident singer songwriter. By the time he hit 21, Stevie Wonder broke away entirely from Motown, securing all the artistic rights for all his following albums and songs.
Music Stylings
For Wonder, the 1970's brought a new found freedom to experiment with his music, his songs diverging from Motown and incorporating electronic sounds, acoustic and synthesizers. In 1973, Wonder became the first black person to win an award at the Grammy's, and has since won 24 more, including a lifetime achievement award in 1996. His other awards include Golden Globe and Academy awards for movie soundtracks. In 1989 he became the youngest ever solo artist to be inducted into the Rock & Roll Hall of Fame.
Personal Life
Stevie Wonder has been married on two occasions, first for two years to collaborator Syreeta Wright in 1970 and then to Kai Millard Morris since 2001. In total, Wonder has seven children from his second marriage and other relationships. Wonder has been separated from his second wife since 2009 and it was revealed in August 2012 that he had filed for divorce.
Charitable Organizations
Stevie Wonder is not just a musical genius and superstar; behind the public eye and the music scene he has dedicated a commendable amount of time and hard work to humanitarian activities. He has fought actively against apartheid in Southern Africa, has raised finds for research into AIDS and has also raised money for numerous children's charities.
In 2009, Wonder was presented with the Gershwin price for Pop Music by President Obama. Currently, Wonder is publishing copyrighted works in a format that is accessible to those with visual impairment all over the globe. Stevie Wonder is one of the biggest and most commendable personalities that modern music has ever known.